Over 100 leading IFAs from 18 locations across Southern India and five leading AMCs participated in the Wealth Forum Southern Region Advisors Conference in Bangalore on 25th and 26th June, 2010. The conference provided South India's leading IFAs a unique forum to share insights and ideas on how to grow their advisory business in these challenging times. The conference featured panel discussions on contemporary business issues, case studies of successful advisors across India, thought-provoking insights from leading AMCs and an exclusive message from the regulator on the road ahead for the advisory and distribution business. Feedback from participants was unanimous : every advisor took back tangible, practical business ideas that they intend implementing in their own businesses to help them scale up further and achieve even more success than they already have. And that is the core objective of the Wealth Forum conferences - we want to see serious and committed advisors gaining greater success in their profession and are glad to be a catalyst in our own little way in helping them onto this road to greater success.

Our sincere gratitude to the five participating AMCs - ICICI Prudential, Birla Sun Life, Axis, Principal and Kotak for co-sponsoring this conference and for sharing their rich insights with the participants.
The conference begins.....
Vijay Venkatram, Director, Wealth Forum, kicks off the 2 day conference
with a welcome address. He spelt out the objectives of this conference and
how these objectives were sought to be accomplished over the 2 days
of the conference

SEBI's message : the road ahead for the advisory and distribution business

An attentive audience of South India's leading advisors soaking in SEBI's
views on the road ahead for distributors and advisors - through an exclusive
recorded interview of Mr. K.N. Vaidyanathan, Executive Director, SEBI.



















A lively discussion and debate on Mr. Vaidyanathan's messages ensued - Lalit Somani of Hyderabad raises a query on multiple depositories and their implications for MF distributors in the MFSS system

Deepak Chabbria of Axiom Financial, Bangalore clarifies a point on depositories


















Kailash Kulkarni, National Sales Head, Kotak AMC discusses direct &nbspdebit alternatives to facilitate transactions

E Chandrashekaran of ECS Consultants, Hyderabad makes a point on the
regulatory landscape
Principal AMC presentation
Shyam Bhat, Senior Fund Manager, Principal AMC talks about the key
drivers and the road ahead for equity markets
Prashant Joshi, Head - Products, Principal AMC highlights the need and relevance of asset allocation products that use trailing PE multiples as triggers.
Sreram Suryanarayan of InvestGains, Bangalore queries Prashant on the
back testing results of PE based funds
Looking heavenwards for solutions to meet the current challenges?
Panel Discussion : Leveraging platforms to drive business growth
Vijay Venkatram kicks off the panel discussion on platforms
S Srinivasan of MoneyKare, Chennai took participants through the various platform alternatives that are available for advisors to consider as also his wishlist of what an ideal platform should deliver for advisors and investors. His recommendation : there are now an increasing number of platform alternatives coming in on a pay-for-use basis, without any revenue sharing arrangements - these are worth considering, providing they are value-for- money propositions.
To a question by Vijay Venkatram as to who among the participants were
currently actively considering a platform, at least 80% of the hands went up
- platforms are clearly very high up on the priority list of South advisors
Anil Rego of Right Horizons, Bangalore took participants through his journey of moving from a platform user to developing his own platform. He also gave some useful pointers to advisors to help them take a build versus buy decision on platforms.
K Narendra of Procyon, Bangalore spells out what he would look for
in a platform
R. Lakshmanan of Think Solutions, Bangalore makes a point
Axis AMC Presentation
Karan Datta, National Sales Head, Axis AMC, in his now patented style,
gets everybody onto their feet and gets them to stretch themselves - his boss
included ! And we thought it's the boss who makes the team stretch !
And now for some serious business - Karan spells out how hybrid funds
that aim to reduce volatility and deliver better-than-FD-returns can be a
game changer for retail penetration of MFs - and can easily double retail
AuM for the industry
D Satish from Vijaywada has a question for Rajiv Anand
Rajiv Anand, MD & CEO of Axis AMC talks about the principles behind
the structuring of hybrid asset allocation solutions that his AMC will be
launching in the near future
N. Krishnan of Value Invest Wealth Management, Chennai makes a point on hybrid products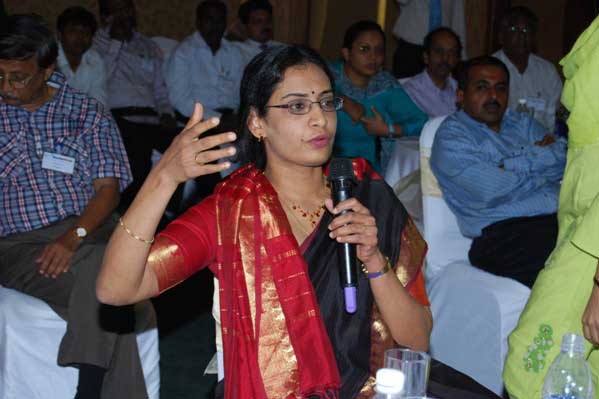 Priya Sundar of Peak Alpha, Bangalore seeks clarity on how these hybrid
products can be effectively pitched against risk-free bank fixed deposits
K V Kannan of Burgeon Advisory, Bangalore makes a point
Deepak Chabbria of Axiom Financial, Bangalore chips into this active
discussion on using hybrid products to drive volumes
Case studies of some of the finest advisors from across the country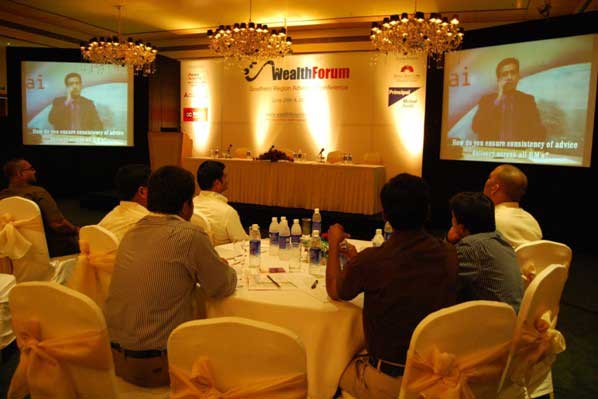 Case studies of leading advisors across India - through video clips of their
interviews conducted by Wealth Forum - went down very well with all
participants. Practical insights from the leaders on how they are tackling
current business challenges and preparing for the future were immensely
appreciated by one and all
A lively discussion on "active advisory" versus "passive advisory" followed the case study of Jaideep Kashikar of Brainpoint Investment Centre, Mumbai. Lovaii Navlakhi of International Money Matters, Bangalore describes his firm's position on "active advisory" for HNIs
Mrunmay Das of Das Capital, Bangalore talks about how a buy and hold
can also qualify as active advice - so long as portfolios are regularly
monitored and clients are kept informed on developments
Kotak AMC Presentation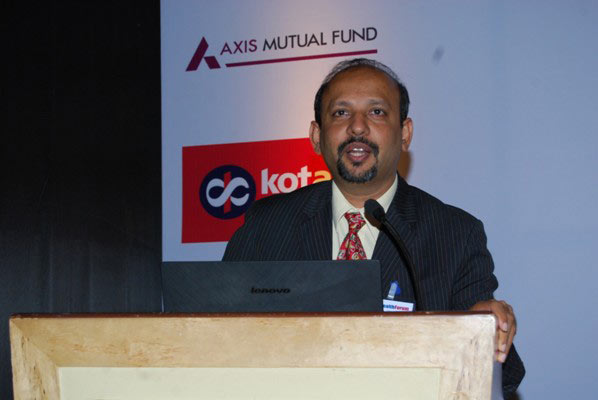 Its time to bond - again ! That was the message from Kailash Kulkarni,
National Sales Head, Kotak AMC. It wasn't just social bonding that was
on his mind - he believes bonds are a great place to be in - and bond funds
should deliver healthy returns over the next 12 months
Lakshmi Iyer, Head of Products & Fixed Income spelt out exactly why bonds are a great place to be in right now and why Kotak AMC is bullish on bond funds from a 12 month perspective.
Vithoba Prabhu of Apex Wealth Mart, Bangalore makes a point on the
lack of benchmark oriented bond funds - which can simply track the 10
year gilts performance. He believes actively managed bond funds may not
be a great idea for advisors who themselves take active calls
N. Krishnan of Value Invest Wealth Managers, Chennai has a query for Lakshmi
Panel Discussion : Client Acquisition Strategies
Vijay Venkatram kicks off the panel discussion and introduces the topic
and the panellists
B. Ramanan of Wealth Creators, Coimbatore takes participants through his retail client acquisition experiences over the last 7 years. He summed up the case for retail business very simply and effectively - by showcasing how a single retail client he acquired in 2003 gave him 7 more referrals over the next 7 years - and how the collective AuM of these 8 retail clients had already crossed Rs. 1 crore and continues to rise. You never know which retail client, if properly serviced, can turn into a client acquisition engine for your firm !
Lovaii Navlakhi of International Money Matters, Bangalore takes
participants through some of the strategies that have helped him grow his
firm rapidly over the years - and in particular about how building the profile
of the firm in media can play a key role in client acquisition.
Ramesh Bhat of Aniram, Chennai has a number of questions for B. Ramanan on his retail model
Retail Penetration : Lessons from Kolkata
The case study of Pradip Chakraborty (Right Choice Securities, Kolkata)
was extremely well received - and provoked much debate and discussion,
especially his innovate Group SIP program.
Shyam Sundar of Peak Alpha, Bangalore has a query on the Group SIP program
Raman Gupta of Shree Sidvin, Bangalore makes a point
Lalit Somani, Hyderabad asks detailed questions on the legal structuring of the Group SIP program
Allagappan of Chennai contributes his thoughts on retail penetration
P. Ramaswamy of Madurai expresses his views on driving retail penetration in smaller towns
Birla Sun Life AMC Presentation
Speak the language of the customer - and not the manufacturer - and see
how investors respond to you : that was the key message that Kalpen Parekh
- National Sales Head, Birla Sun Life AMC - passionately delivered to the
gathering. He showcased a number of communication initiatives that his
AMC has undertaken in recent months - many of which were in tandem with
key distributors and advisors - and also showcased how effective these have
been in boosting business.
E. Chandrashekaran, ECS Consultants, Hyderabad was so impressed with Kalpen's presentation and the work that his AMC has put together, that he announced an impromptu Wealth Forum Award for Innovation and declared Birla Sun Life AMC the deserving winner. The participants gave their consent by loudly cheering the proposal !
Raj Shekar from the Birla Sun Life Real Estate Investment team took
participants through the real estate investment solutions that his Group has
launched.
ICICI Prudential AMC Presentation
Advisors gave a huge round of applause to Nilesh Shah, Deputy CEO,
ICICI Prudential AMC even before he uttered a single word - a measure
of the huge respect he commands and the appreciation of the participants
for his effort in flying down to Bangalore especially for this event. And
Nilesh didn't let anybody down - there was literally pin-drop silence
through the time that Nilesh spoke - explaining the root cause of problems
around the world in his own inimitable style and explaining the basis of his
optimism about India even in this troubled environment.
A lively Q&A followed, with a number of advisors wanting to pick Nilesh's brains and gain clarity from his perspectives
Uday Dhoot of International Money Matters, Bangalore has a query for Nilesh
And finally, Vijay Venkatram had to play the "bad man" and call for 1 last
question - there were many more questions, many more advisors who
wanted Nilesh's insights - but alas, all good things come to an end - and
Nilesh's session needed to be closed in the interest of maintaining the schedule.
Panel Discussion : Managing Growth in Changing Times
The conference started with the regulator's message on the need to
embrace change and the final panel discussion of the conference dwelt on
various facets of change that IFAs need to embrace in order to grow in
today's environment. Vijay Venkatram introduces the panellists.
Babu Krishnamurthy of Pelican Wealth Managers, Chennai takes participants through what it takes to grow from an IFA to a wealth management firm. As he very succinctly put it, making the transition is not just about adding RMs and putting them out in the field. You need to first get processes in place, then the people, then the technology and finally the communication piece - in that order - to make a successful transition from a one man sow to a large firm.
Sreram Suryanarayanan of InvestGains, Bangalore took the discussion
to a different level by explaining how he worked relentlessly to build
models that allow you to capture market upsides while containing the
associated volatility. Not satisfied with the products available in the market
to do this job, he has actually created his own bespoke products that are
true to his model - in conjunction with the PMS wing of an AMC - and is
now offering this and other bespoke products to his clients. Creating
customised solutions that you believe in is a great way to grow your
business - for advisors who have the bandwidth to actually create
their own models.
Ramesh Bhat, Aniram, Chennai offered advisors a perspective on how to manage and cope with regulatory change.
He summed up his advice through a lovely story - the moral of which was
" Don't ask for a lighter load, but pray to God for a stronger back to carry
the load"
Wrap Up : Parting words of advice to each other
Ashish Golecha of Chennai offers his closing remarks while Suja looks on
Farid Hussain of Chennai asks advisors to look at real estate seriously - just as he has done
Kasinathan of Salem couldn't agree more with Farid Hussain on the
importance of real estate for advisors